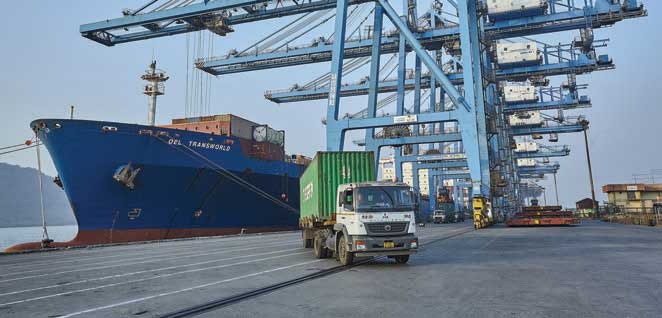 The draft Indian Ports Bill, 2020, has many positives, but it should safeguard state autonomy and plug holes. The wish list is for an act that will make India's coastline future-ready – safe harbours, unimpeded access, water deep enough for the largest vessels, no risk of noise, dirt and danger associated with loading and unloading cargoes for workers and locals, smooth transport networks of the inland movement of goods, and strengthening systems and processes. By JAGANNARAYAN PADMANABHAN & PARUL SINGHAL GARG
India's goal of becoming a $5 trillion economy presents a formidable challenge in the ports sector. For the manufacturing agenda under Atmanirbhar Bharat to be realised, these gateways of trade will have to be spruced up on a war footing.
Cognisant of the need, the draft Indian Ports Bill, 2020, which will repeal and replace the Indian Ports Act 1908, proposes a complete overhaul of the ports sector.
The Indian Ports Act, 1908, focussed mainly on empowering the government to develop, manage, regulate and safeguard the coastline and infrastructure along with it such as conservation of ports, the safety of vessels, collection of port dues and penalties for disobedience of rules.
But the new bill goes a step further and looks at sustainable and structured development of port infrastructure. It makes no differentiation between ports that are under the centre's jurisdiction and those under states' control and privately leased ports. The Bill talks of holistic development and seeks to improve their utilisation, competitiveness, administration, management and dispute resolution. It seeks to achieve these by setting up a central Maritime Port Regulatory Authority and developing a National Port Policy and National Port Plan.
This, however, implies centralising decision-making institutions and processes, thereby diminishing the autonomy of state governments and maritime boards. A move that has not gone down too well with them.
ISSUES PLAGUING THE SECTOR
Capacity utilisation of Indian ports has been flagging across the board. As of last fiscal, average capacity utilisation was only 49 per cent, with minor ports a step ahead of major ones. In the year FY 2021, Covid-19 impact is evident with capacity utilisation down by 2 per cent as compared to FY2020.
Five maritime states account for 99.3 per cent of the total cargo handled by all the minor ports. These include Gujarat (68.5 per cent), Andhra Pradesh (17.7 per cent), Maharashtra (7.8 per cent), Odisha (3.8 per cent), and the Union Territory of Puducherry (1.4 per cent).
TACKLING ISSUES WITH DRAFT LEGISLATION
Let us assess some key provisions of the draft legislation. Firstly, let us assess the formulation of a National Port Policy and National Port Plan, to be drawn up in consultation with maritime states, state maritime boards and other stakeholders. We assess that this will give a holistic push to a fair, competitive and sustainable development of the sector. Considering states carry out their coastline development, the process needs to be consultative, involving the states. Also, while finalising such a plan, consultations will be required with other ministries such as roads & highways, railways, fisheries, environment, industries, tourism, labour and employment as ports are highly dependent on associated infrastructure.
Secondly, the constitution of a central Maritime Port Regulatory Authority to develop the National Port Plan and provide recommendations to Central or State governments on any matter related to ports, or their administration and management. The authority would comprise a chairperson and two full-time members appointed by the Central Government and two members to be appointed on a rotation basis, as nominated by the relevant coastal states for a term of two years each. They will also be responsible for advising the Central Government on matters related to National Port Policy and Plan and formulating short-term development plans on the ports sector.
The authority would handle registration of scheduled ports, renewal, withdrawal and suspension or cancellation of registration. It would be empowered to standardise and regulate the functioning and practices of scheduled ports, major and non-major both, regarding contracts and terms, besides monitoring performance, conducting periodical studies and audits of scheduled ports and issuing directions as required. It would also be expected to collect and maintain data and information from scheduled ports for research and studies.
The Central government may alter the port limit of any scheduled port after obtaining a prior recommendation from the Maritime Port Regulatory Authority. The authority will be mandated to receive and adjudicate matters related to port tariffs levied by scheduled ports, to address complaint concerning alleged anti-competitive practices or abuse of a dominant position at scheduled ports, to adjudicate the dispute between ports, shipping line, terminal operator, dispute of anti-competitive practice, etc.
COGENT DEVELOPMENT
We assess that the creation of a centralised authority could lead to more cogent development of the sector and attract more investments. However, it once again compromises the autonomy of the states. If a particular port is found non-compliant with the provisions of the Indian Ports Bill, 2020, it may get de-notified. This would be a massive exercise considering only 69 of the 205 notified ports in India are currently operational.
Currently, powers for notifying minor ports vest in state maritime authority. Also, every state has autonomy concerning its port policy, concession agreements, setting the port limit, regulations related to cargo handling and charges such as wharfage.
There is a possibility the "directions" given by the central Maritime Port Regulatory Authority would be objectionable to states. These may contradict contractual obligations that state maritime agencies and state governments have with port operators.
Next comes the formulation of the Adjudicatory Board and Appellate Tribunal. The Adjudicatory Board is to be set up by the state government to resolve any disputes relating to minor ports, public-private partnership (PPP) concessionaire, state maritime boards, captive users or any port sector service provider. This body will look into complaints received from port users against the services or terms of services rendered by ports other than major ports. This board will have the powers vested in a civil court.
In the current mechanism, there is no such body and stakeholders either go through the arbitration route or approach a civil court, as mandated in their concession with the state authority. Now, things would be routed through this central agency.
Appellate Tribunal will be the Adjudicatory Board constituted under Section 54 of the Major Port Authorities Act, 2020, and the presiding officer and other members of the board shall act as the presiding officer and members of the Appellate Tribunal.
We assess that this provision of constituting Adjudicatory Board and Appellate Tribunal is to provide with a grievance redressal mechanism to not just the port bodies, but also to other stakeholders involved with the ports business. These are aimed at providing speedy redressal and promote healthy competition in the industry and is a great positive.
STATE MARITIME BOARDS
Next is the mandatory constitution of state maritime boards in every maritime state. The main functions of the state maritime boards will be to initiate plans for the development of scheduled ports in line with National Port Policy and Plan prescribed by the Central Government; to exercise licensing functions in respect of infrastructure and service provided by scheduled ports other than major ports; to exercise supervision and control over all port activities to regulate and control navigation within the limits of Scheduled Ports; to provide navigational aid facilities; to receive port dues, and to protect ecological balance.
In light of the changing times and increasing need for maritime security, this bill lays a lot of emphasis on ensuring compliance to International Ships and Ports Security (ISPS) and security norms and guidelines from the Ministry of Home Affairs under the standard operating procedures recommended by the Task Force on National Committee on Strengthening Maritime and Coastal Security (NCSMCS) against threats from the sea. The responsibility of ensuring the same lies with state maritime boards.
On this, we assess that the 1908 Act mandated the state government to appoint an officer or body to maintain a distinct account called a port fund account to prescribe the receipts and expenditures of ports in the state and publish annually. There were no clear guidelines. Hence, there are significant variations in the state laws regarding the constitution and functions of their respective state maritime bodies or boards.
The rule on mandatory creation of state maritime boards with set guidelines will help states promote the port sector and regulate it more effectively in compliance with international norms on ports and shipping. These will be vested with powers to take decisions related to port matters, while the Central Government-nominated member will help them comply with provisions of the National Port Policy and Plan.
The processes at the state level will become lengthy. For example, the declaration of a new minor port needs to be in line with the National Port Plan, require security clearance from the Ministry of Home Affairs and follow stricter guidelines. This should be partly welcome as it would lead to more standard and internationally accepted practices.
SECURITY AND ECO-SUSTAINABILITY
Where provision to comply with international conventions and agreements for safety, security and environmental sustainability are concerned, every port, port official, state maritime board and the state government has to adhere to the provisions prescribed by the Central Government.
We believe that this will ensure standardisation of safety, security, environment, pollution control requirements – in line with international conventions – and that all conventions and protocols to which India is a party, are also suitably incorporated by all scheduled ports. Compliance with such provisions will enhance the acceptability of Indian ports for trade and shipping activities.
Last, but not least, the provision to adopt a centralised port community system (PCS) for the ease of doing business. Each port needs to have its trade-related data stored electronically, which can be interoperable with PCS's software applications, as prescribed by the Central government. Every operating port shall prepare and implement a Vessel Traffic Services system (VTS) arrangement plan for safe navigation of vessels and the VTS shall be compatible with PCS.
We assess that maintenance of port-related and cargo-related data at a centralised hub at the ministry level will help the authority analyse the data and use it for the development of the National Port Policy and Plan. States and private port operators may not be willing to share their trade information. It would be crucial to have individual entities' data safeguarding provisions for this to get implemented.
The draft bill also has several miscellaneous provisions related to prevention of pollution, shore-based welfare services for seafarers, the appointment of health officer by the centre, etc., which are positives and will bring standardisation in processes across ports in India
THE IMPERATIVES
The draft bill has some positives such as the formation of the National Port Policy and Plan, mandatory constitution of state maritime board in each coastal state, redressal tribunals, a greater focus on maritime security, international protocols on shipping and environment regimes and general well-being of seafarers. It is intended to support the fundamental aim of improving economic, social and environmental welfare through sustainable development.
However, states need to safeguard their autonomy. The centre would need to find a way to address some of the aspects highlighted and take states into confidence while converting it into an act.
Some of the other areas which haven't found mention, but are relevant to coastal development are the promotion of ship-building and ship-repair yards, bunkering facilities, skill development and maritime institutions, coastal tourism facilities such as waterfront development, promotion of water sports, marinas, cruise terminals, floatels, seaplane operations, among others.
Let us hope the legislation addresses the issues that are impeding desired development of these associated but revenue-generating activities for ports.
The wish list is for an Act that will make India's coastline future ready – safe harbours, unimpeded access, water deep enough for the largest vessels, no risk of noise, dirt and danger associated with loading and unloading cargoes for workers and locals, smooth transport networks of the inland movement of goods and strengthening systems and processes.
Jagannarayan Padmanabhan is Director and Practice Lead Transport.
Parul Singhal Garg is Associate DirectorTransport, CRISIL Infrastructure Advisory